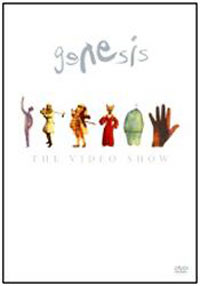 Genesis new DVD
The video show

Format DVD-Rgn 2: Europe

Catalogue GENDVD1
Barcode 0724354424496
La lista dei video presenti su questo nuovo DVD:


1 No Son Of Mine
2 I Can't Dance
3 Hold On My Heart
4 Jesus He Knows Me
5 Tell Me Why?
6 Invisible Touch
7 Throwing It All Away
8 Land Of Confusion
9 Tonight Tonight Tonight
10 Anything She Does
11 In Too Deep
12 That's All
13 Mama
14 Illegal Alien
15 Home By The Sea/Second Home By The Sea
16 Paperlate
17 Abacab
18 Keep It Dark
19 No Reply at all
20 Man On The Corner
21 Turn It On Again
22 Duchess
23 Misunderstanding
24 Follow You Follow Me
25 Many Too Many
26 Trick Of The Tail
27 Ripples
28 Robbery Assault And Battery
29 Congo
30 Shipwrecked
31 Not About Us
32 Carpet Crawlers
Il cofanetto di 3 CD
Catalogue ID: GENCDX9
CD1:
No son of mine, I can't dance, Jesus he knows me, Hold on my heart, Invisible touch, Throwing it all away, Tonight tonight tonight (edit), Land of confusion, In too deep, Mama, That's all, Home by the sea, Second home by the sea, Illegal alien **, Paperlate **, Calling all stations.
CD2:
Abacab **, Keep it dark **, Turn it on again **, Behind the lines, Duchess **, Misunderstanding **, Many too many **, Follow you follow me **, Undertow **, In that quiet earth **, Afterglow **, Your own special way, A trick of the tail **, Ripples **, Los Endos **.
CD3:
The lamb lies down on Broadway **, Counting out time **, Carpet crawlers **, Firth of fifth **, Cinema show **, I know what I like **, Supper's ready, The musical box **, The knife **.