David Longdon exclusive interview for 'Dusk' – November 2010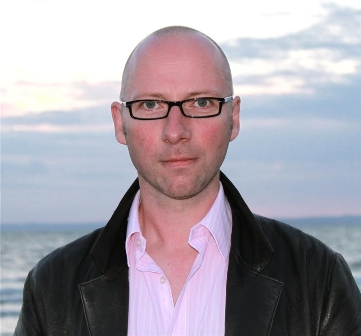 When and where were you born?
I was born on the 17th June 1965 in the city of Nottingham, United Kingdom.
Who were your musical influences?
The first record I bought at the age of eight, was Beethoven's First Symphony in C. Performed by the Royal Philharmonic Orchestra and conducted by Charles Groves. It was part of a weekly series that studied the world's greatest composers and their music. I still have it right here in my studio. It's next to my The Famous Charisma Box and Harvest Festival box sets. When I was a boy my uncle Jack would play me an eclectic mixture of Classical music, Country music and Opera. He also bought me books to read. Things like Tales of Mystery and Imagination by Poe. I was nine years old, when a friend introduced me to the music of The Who and for some reason the music of Pete Townshend inspired me to write my own music. I also liked music by The Beatles, Led Zeppelin, Pink Floyd, Deep Purple, King Crimson, David Bowie, XTC, Todd Rundgren, Queen, The Velvet Underground, Richard Thompson and of course Genesis.
I read you are a multi instrumentalist; which instruments can you play?
I'm a singer. I play keyboards, acoustic and electric 6 & 12 string guitars, bass guitar, flute, mandolin, accordion, percussion, dulcimer, psaltry. When I write songs, often the material will suggest certain instrumentation, so I endeavor to play these parts on their specific instruments.
Your main band was called The Gifthorse, can you tell me something about their music?
The Gifthorse was an art/folk rock band. It developed out of the ashes of my earlier group O' Strange Passion. Although we were considered to be of interest, we were playing the wrong type of music in the wrong place at the wrong time. We did have interest from record companies, especially Epic, but we were considered too much of a risk. Our live shows were passionate, dramatic and somewhat dark, especially toward the end.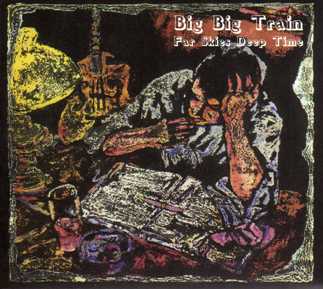 You also were in the Louis Philippe band, can you tell me something about this experience?
I was a fan of Philippe's Appointment With Venus album. We became friends over time and after seeing The Gifthorse play The Borderline in London, he invited me to join his live band. I appear on several of his albums and it is always a huge learning curve doing them. Philippe and Danny Manners are astonishingly talented musicians. I met Dave Gregory (ex XTC) while working on the Jackie Girl album. Danny plays double bass on British Racing Green from the new Big Big Train EP Far Skies Deep Time.
You released a solo cd called Wild River in 2004. Tell me about it.
Wild River was the music I worked on after Genesis. It had been a period of great change, the world had moved from one century to another. My father died. I had gone through a divorce. Eventually I met someone else and now have children. Wild River chronicles the events of those times. I like the album very much. When I hear it, it's like looking through a box of old photographs. Dave Gregory plays guitars and Mellotron on it.
Are you doing another new solo album?
I do have songs for a second solo album which is 85% complete but there are only so many hours in a day. I have a young family, I work and being musically active in Big Big Train takes up most of my creative time. I may finish it at some point but for the moment it's on hold.
How was to sing on Martin Orford's last album?
It was a highly significant moment when Martin invited me to sing on The Old Road, which has led on to other opportunities. Martin kindly gave me two songs to sing. He said if I could sing them better than he could, my performances would go on his album. So I travelled down to Aubitt studio in Southampton to record the parts and met Rob Aubrey. Rob suggested a band who would be very interested in having me sing for them and so he introduced me to Big Big Train
You joined Big Big Train in 2009. Did you already know them? Tell me about your experience with these prog veterans.
Martin and Rob created the opportunity for me to join Big Big Train. Greg and Andy had been working on The Underfall Yard and sent me the demos. I recorded my parts and worked on the vocal arrangements. We get on very well with each other. It is as if we've known each other for years. The creative ideas flow quickly between us and we're old enough to appreciate that there is something very special not only concerning the music we're making but also the chemistry between us. I am used to working alone on musical projects and being the sole driving force but in BBT it is very much a team. We've just released our new EP called Far Skies Deep Time. I consider the band to be my musical home and can't wait for the world to hear the music we're making.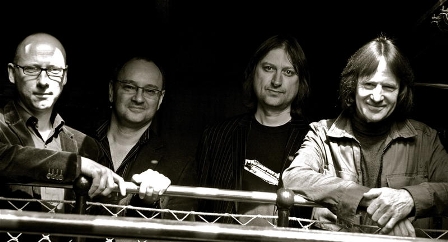 The new Big Big Train line up also features Dave Gregory from XTC, who had already collaborated with you. Was it your suggestion for him to join the band?
Dave has always been most encouraging about my music. He has a great sense of humour. His style of playing and his highly developed musicianship has added immeasurably to BBT. Yes, I did initially suggest to BBT that Dave be part of it but Andy and Greg did not need to be persuaded.
Let's go to Genesis. Did you like their music before crossing their path?
Yes. My best friend Simon Withers was into them when we were at school and he would play me their albums. The first Genesis album I bought was a second hand vinyl copy of Foxtrot from Selectadisc on Market Street in Nottingham with some Christmas money. It cost me £1.99. I bought it because it has Watcher Of The Skies and Supper's Ready on it.
How did you manage to be noticed by Genesis management? I mean: were you contacted by anyone, or did you just answer to an advertisement?
I was signed to Rondor Music UK as a songwriter and worked with another songwriter and record producer called Gary Bromham. Gary was in a band called The Big Blue who were signed to EMI and were recording their album with Nick Davis at The Farm. Phil was gone and they were searching for a new vocalist. Gary had produced a song of mine called Heiroglyphics Of Love. He played it Nick, and Nick liked it enough to pass it on to Tony Banks. Tony liked it and played it to Mike Rutherford. They thought it was worth a shot and I received a call from Tony Smith inviting me to come down to The Farm to audition.
Several names have been done as possible replacements of Phil Collins, including some probably suggested by the fans which actually don't look reliable (i.e. Fish or Paul Carrack). As far as you know, were these ones actually auditioned? And have you heard of any more people who surely did a personal audition?
I know Fish was mentioned but I don't recall him actually being auditioned. Paul Carrack wanted to do it but I'm not sure how comfortable that sat with Tony Banks. Sadly Kevin Gilbert passed away before having the chance to audition. Francis Dunnery and Nick Van Eade auditioned but it came down to being between Ray and I pretty quickly.
Ray Wilson said that during his first audition, on May 30th 1996, he was asked to sing a couple of Genesis songs like In The Cage, Land Of Confusion and No Son Of Mine, singing with Phil's backing vocals in his ears! Did this also happen to you?
Yes, the mixes had Phil's lead vocals muted, but his backing vocals were present. I arrived at The Farm and had to sing several songs for them from a set list they'd given me. The mixes were album mixes with Phil's lead vocals removed. These mixes were possibly originally designed for television promotional appearances. Genesis would mime to their latest single and Phil would add a live vocal performance. So I was in the live room looking through at Tony, Mike and Nick who were sat at the mixing desk watching and listening to me.
How did your first audition happen? How long it was? What were you asked to do?
I was auditioned for three hours. The songs I sang were, No Son Of Mine, I Can't Dance, Mama, Throwing It All away, Tonight Tonight Tonight, Turn It On Again, In The Cage, Land of Confusion.
During Ray's second one audition, around four weeks later, he was asked to improvise something on the new music written by Mike and Tony. Did the same happen to you?
Yes, the same thing happened for me. I was asked to extemporise around their ideas. They would play their parts and I'd sing along. It was amazing working with them in those circumstances. Tony had all his set notes on a tiny 'post it'. He and Mike were set up in the Control room at The Farm. They physically played their instruments and performed sections of songs that would be tracks destined for Calling All Stations. I had to improvise and sing along with them. They like to work this way because I'd have to react directly with the music and maybe an unexpected melody would develop from this.
Which songs were you asked to sing?
I worked on material that would eventually become Calling All Stations. When I sang in the auditions all the classic Genesis 'hit' material is full on and quite high in pitch vocally. The material on Calling All Stations was much lower in pitch which hinted at a possible change in direction. Ray and I recorded our vocals separately. We were aware of each other but they kept us apart throughout the whole process, which made me think they were being cautious. I was at The Farm on 4th, 5th and 6th of Nov 1996. The tracks I worked on, were called Fuzz Intro(eventually becoming Sign Your Life Away), Paris (which would become Alien Afternoon), 1965 Shipwrecked (becoming Shipwrecked), Breathless (One Man's Fool), Jelly (If That's What You Need) , Congo and Scotties (I wrote a set of lyrics and a melody for this one and so did Mike but I'm not sure what it ended up as or if it was used at all ). I had also been asked to write some musical ideas for three pieces. I called them called Cast Adrift (which ended up as 7/8), Blessed (my version of Scotties) and Pretty Bird (which I think was titled Phret on the demo).
Were they just demos done by Tony and Mike, or was there any real drums on?
Some had drums part recorded during Nick and Nir's auditions. Some of the tracks had drum loops.
Have you ever met the drummers, Nir Z and Nick D'Virgilio?
No, I've not met or spoken with either of them. Oddly enough, I've been involved with four projects now that feature Nick D'Virgilio (Genesis, Martin Orford and two Big Big Train releases). We've never met each other. However, we will be meeting each other on the 28th Dec 2010 when we'll be working on drum tracks for English Electric the next Big Big Train album. I guess that's what it's like being a musician in a band in the 21st century.
Were the lyrics of the songs written at that stage?
Some were and some were work in progress. As I'd sing a line, sometimes Tony or Mike would ask me to make alterations to the melody or sing a different line.
Was there any vocal guide line, or did they ask you to create a melody?
Yes, there were vocal lines but these would be adapted and tweaked as they went along by Tony or Mike. They asked me to go naturally with the melodies and arrangements and certain sections were open to interpretation. We'd go through the songs line by line and I'd sing the lines in as they sang them to me on talkback. Then at the end of a day, these songs would be put onto cassette and I'd learn them overnight to return to the studio the next day and record fresh takes. There were also areas for improvising, usually on the coda of tracks e.g Shipwrecked. The version I have of me singing Shipwrecked is melodically different from the one that ended up being on Calling All Stations. I assume they refined it and worked it to better suit Ray's vocal style.
Did you record the new songs, or just demoed them?
It was all work in progress. To my understanding, everything I contributed was direct to the actual product. We were not recording demos. We were defining what would be and who would be on Calling All Stations.
You say that you worked with them from May to November 1996, so it was quite a long time. How many times did you go to the Farm Studios?
I think it was five times in all. Four occasions at The Farm and one other which was a gig that they asked me to play for them with my band The Gifthorse. They have a company called Varilite which manufacture lighting for concerts. I had to perform a set with my band at Varilite and so a stage was set up. They have a factory on an industrial estate off Hanger lane in London. They did this because they knew what Ray was like because they had video footage of him performing with Stiltskin but they had no idea of how I would be in a live situation. So they set up this gig as an opportunity for them to find out.
What can you remember of those sessions? Your state of mind, Tony and Mike's behaviour to you, musical and personal emotions… Whatever!
I went down to London and stayed with Gary Bromham. We then drove to the studio the following morning. When I arrived there, Dale Newman, Geoff Callingham and Geoff 'Bison' Banks greeted us. Tony and Mike were in the studio control room. I was taken in and immediately I was put at ease by them. They were friendly and asked me lots of questions. That helped break the ice. When I started the live audition they let me warm up (they left the studio and came back when I was ready) and let me choose the order of songs. I had practiced the songs at home and went through them one by one. They were all first takes. I did not get the chance to redo any of the songs. The mixes of Turn It On Again, Mama and In The Cage were taken from live recordings.
Were you more excited or scared to be in front of two rock legends?
My adrenaline was going for sure. I wasn't scared, it felt like going on stage. I was ready to go. It was odd seeing them in the flesh after only seeing them in photographs or concert footage. The sessions were busy and there was not much time to be starstruck. Both Tony and Mike were very friendly and mindful of what they were asking me to do. They knew it was a big deal and they were considerate and respectful throughout the whole process. When I went into the live room to start singing, Nick nodded to Phil's drum kit which was still set up in the live room and joked 'Go on then Dave, we'll start with the drums first!' - I don't play the drums. After the audition we chatted, then Tony joked 'Where were you in 1975?' - I was ten years old!
Did you particularly work with Nick Davis?
Yes, Nick engineered all the auditions and even did my live sound for the Varilite gig
What would you say of the other people you met there at The Farm?
Dale was very friendly. He made me feel most welcome at The Farm. I went with him once on the soup run into the village! Geoff was also there. Equally friendly but busy with his duties at the Farm. I also met Angela who cooks supper for them when they're working on music at The Farm. Fine cooking indeed. I also met The Farm cat who I think was called Teaser! (If that counts). By coincidence Geoff Banks (Bison) one of their tour crew, lived in the same town as me. We were completely unknown to each other.
How was your relation with the manager Tony Smith?
Tony called me initially to set up my first audition. I like Tony Smith very much. He's got a good natured way about him and he was very encouraging. He wanted the best for Genesis and wanted me to do well. I remember as I performed my live set at Varilite, I could make out the smiling face of Tony Smith in the audience, willing me on. Tony is a force of nature and it's very easy to see why he is successful at what he does. Tony also said that if I got the job of new Genesis vocalist, I would have to live with the Phil & Peter comparisons which would be inevitable. He was right. I still have to do that even regarding my work with Big Big Train. It doesn't bother me though. The sound of my voice enabled me to be chosen to be auditioned for Genesis in the first place.
So eventually only two singers resisted to the final selections… What do you think of Ray?
I've never met Ray nor have we ever contacted each other. I don't know him as a person so I can't say what I think of him. I've read articles in which he looks back on Genesis experience as something he regrets. I'm sorry he feels this way. Like I've said, singing in Genesis is a big deal and it will bring attention, good and bad.
Is it true that the band was also considering to do the album with both you and Ray?
They knew it was going to be a tough act to follow on from Phil's departure. Phil is an extraordinary talent. He makes it look very easy. Fronting Genesis is a tall order and I think they wisely considered all their options. They certainly saw the worth in possibly using two vocalists. Mike was used to working with two in the Mechanics. Also they realised that whoever became the next Genesis singer would have to handle the pressure and public exposure that went with it.
The announcement of the new Genesis singer was only done in June 1997, but when were you informed that Ray was the chosen one?
Late November 1996.
Do you have any personal idea about the reason why did they choose Ray?
I suppose they had to go with what they felt comfortable doing. It was a big thing for all concerned and they had to feel confidant. At that time I had less professional experience than Ray and because of his success with Stiltskin, he was used to being interviewed by the press. Maybe it was down to personalities and the overall group chemistry between us. I don't think it was a decision they made lightly, they'd given it a great deal of thought.
Who was the one who told you they were using Ray and not you?
I became friends with Carol Willis throughout the experience and I asked her if she would mind being the one to tell me should I not be successful. So when the time came, that's what she did.
Have you listened to the definite version of Calling All Stations?
Yes, Carol sent me a copy of the finished album when it was released.
What do you think of it, sincerely?
I like the album on the whole. The opening title track is very dramatic. Tony's keyboards are up in the mix throughout the whole of the album and I think Ray does a good job with the vocals. It's a Genesis album without Phil and of course he's missed. He was always going to be, especially after the phenomenal success they'd had. It is different interpretation of what the band is and at least Genesis had the courage to do something that went in a different direction. For this reason, artistically I think they chose the right singer. It was a new thing, a reinterpretation. Over the years, people have told me, when they heard the new Genesis material on the radio, they weren't too sure if it actually was Genesis. Because the sound of Phil's voice and drums in the context of the band was an instantly recognisable signature sound. Altering that signature sound to a vocalist with a much lower and huskier range, obviously had a significant impact. When the announcement came heralding the new Genesis singer, they wanted it to look unanimous beyond doubt that they had found the right man.
Have you seen them on stage?
I saw them live once with Ray at the NEC, Birmingham, UK. The only other time I saw Genesis play live was at the 'Six Of The Best' concert with Gabriel. I remember the rain and the cold. I bought two jacket potatoes from a stall. I didn't eat them, I kept them whole and stuffed them in my pockets just to keep warm.
It must have been a huge disappointment for you not to be chosen, of course, especially because at the time no one had idea that that was Genesis' swan song. Should have you been the chosen one, do you think your life and career would have been different?
It's hard to say. Yes, I imagine it would have been different in most ways but not necessarily for the better. I am very content where I am in my life. As far as Genesis is concerned, I don't think 'the fools, it should have been me!' Had I been chosen instead of Ray, I don't think the story would be greatly different. I have a wonderful family (two daughters) and I'm also in Big Big Train, which offers me a fabulous and varied creative canvas with which to make new music. I'm very lucky.
When you were still considered as the new Genesis vocalist, were you ever involved in any discussions about the subsequent tour?
Not that I recall. It was mentioned that Genesis would tour but I can't remember going into dates and details.
What would you say about Tony and Mike both professionally and personally?
What Tony and Mike achieved musically with Genesis is enormous. At that time they were getting on and trying to redefine Genesis without Phil. I got the impression at that point, they were not too interested in their past. In subsequent years since the Genesis re-masters and lavish box sets that encompass all the different phases of the band, they've obviously reflected back on their achievements. I'm pleased the re-emergence of Progressive Rock over the last few years has finally allowed Genesis to acknowledge the origins of their success and their impact upon so many bands. Although they've achieved huge success with Genesis, they were still down to earth as people. They did not act like rock stars. They were kind, considerate and good humoured throughout my time with them. I like them as people and I'm pleased I had the opportunity to play a small part in their history, by helping them define who would be the next singer and also giving them another option at such a significant time. I have to mention, out of everyone 'Genesisian' I really like Steve Hackett's last few albums. They are highly creative, curious and playful. He's still a real talent. I love Wild Orchids, To Watch The Storms and Darktown.
Have you ever heard from Tony and Mike after the final decision was made?
Tony wrote me a Christmas card with a lengthy message inside. Mike called me at my home after they decided they were going to go with Ray.
Do you have any recording of your performances on Genesis songs?
Yes I have my audition and two cassettes of working monitor mixes.
Do you have any photos done there with Tony or Mike?
No I decided not to take any because I did not want to look like a tourist and as far as I'm aware there were none taken of me during my time with them.
Some 15 years later, how do you consider the whole experience?
It was a positive one. I had the opportunity to work with two musicians whose work I'd admired. It brought confidence to me knowing that I had the ability and nerve to work with musicians of that calibre. It made me wiser concerning the music business. It also helped me focus on what is important in life. It is an experience which is still being talked about. After all, we're talking about it now, years later. It's not hard to imagine how Genesis would have sounded with me as their singer. My voice is not dissimilar to their other singers. My work with Big Big Train offers a glimpse of what could have been but was not to be.
Mario Giammetti