De-Constructing Wyatt
a. The British Road
b. The Age Of Self
c. Speechless
d. Gharbzadegi
(from To Canterbury And Beyond – A Tribute To Canterbury Music)
Mellow Records MMP 361 - 2 CD , September 1999
Rino Pastore: monophonic synthesizers, spoken voices, shower's singing, effects (including gun shots, modem and crickets)
Roberto Polcino: keyobards, programming, synth bass (tracks a, b & d), accordion
Maria Giammetti: flute, alto and soprano saxophones, voice
Franco Ciani: acoustic and electronic drums and percussion
Mario Giammetti: lead and backing vocals, lead and rhythm acoustic guitar, electric and processed guitars, electric bass (tracks c & d)
Choose your own version between mainly electronic (left) and mainly acoustic (right)!
The gong sound (track d) is sampled from the track "The Airport Song", taken from Guaranteed Pure's album "Swing Your Bag".
Recorded at M.U.R. Studio, Benevento, 1999 (Sorry, Robert!)
links:
http://www.synthblock.com/canterbury.html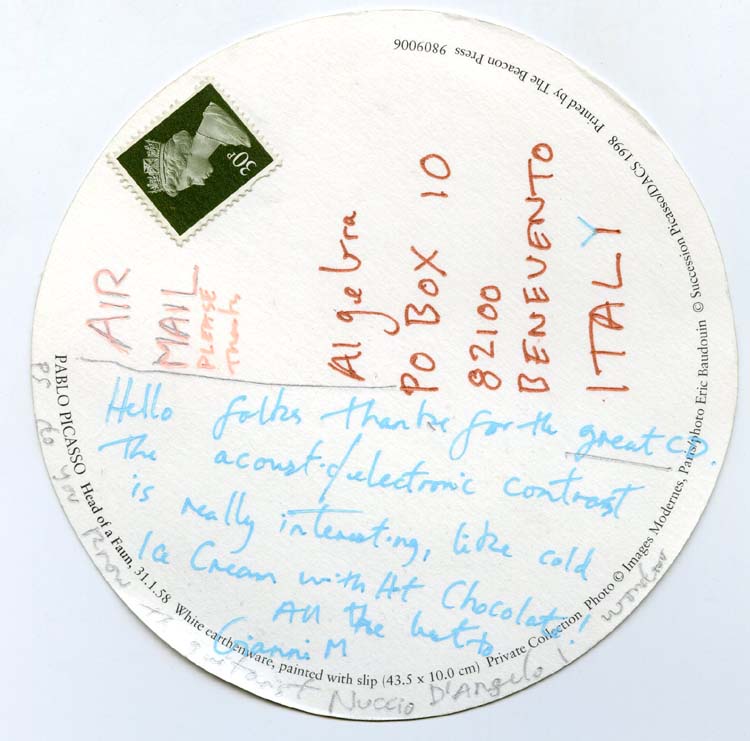 Algebra received this postcard from mr. Wyatt, who acknowledged their work on the cover with these words: "Hello folks, thanks for the great cd. The acoustic / electric contrast is really interesting, like cold ice cream with hot chocolate".
Mario: "This was the first recording we did in our own studio. When we heard of this project, both Rino and I thought about one of our greatest musical heroes, Robert Wyatt. It was Rino's suggestion, however, to do a medley of Old Rottenhat songs, and he also selected which ones. Rino was in fact the main mind behind this recording, which remains probably the most experimental Algebra track to date. The idea of doing both a fully electronic and a fully acoustic version was also probably his. One is on the left channel, the other on the right channel. It was quite obvious that this version scandalysed prog purists, but we had mr. Wyatt's personal compliments and let me say this was really appreciated!"