ALGEBRA
Storia di un iceberg
1) PROLOGUE (Giammetti)
2) IL LADRO ROMANTICO (Giammetti)
3) VERSO IL NULLA (Pastore)
4) CLAUDIA (Giammetti-Pastore-Giammetti)
5) TODAY'S IMAGES (Pastore-Giammetti-Pastore)
6) GENESIS MEDLEY:
a) Afterglow (Banks)
b) Firth Of Fifth (Banks-Collins-Gabriel-Hackett-Rutherford)
c) The Musical Box (Banks-Collins-Gabriel-Hackett-Rutherford)
7) A PRAYER (Giammetti)
8) YOU CAN'T (Pastore)
9) LIFE BATTLE (Pastore)
10) STORIA DI UN ICEBERG (Giammetti)
11) RUSSIAN SUITE:
a) RUSSIAN THEME (Giammetti-Silvestri)
b) IGOR GOES TO... (Giammetti-Pastore-Silvestri)
c) TRAIN FACES (Pastore)
d) SAD TRAVEL (Pastore-Silvestri)
e) EVERY BROTHER DESERVES A TEAR (Giammetti)
12) EPILOGUE (Pastore)
ALGEBRA is:
MARIO GIAMMETTI: lead and backing vocals, basses, electric, acoustic and classical guitars, keyboards on "Prologue"
RINO PASTORE: keyboards, lead vocals on "You Can't"
SALVATORE SILVESTRI: drums, percussion
our guests:
Maria Giammetti: alto sax on "Verso Il Nulla", "Every Brother Deserves A Tear" and "Storia Di Un Iceberg"
Carmine Ielardi: bass on "You Can't"
Silvia Ricciardi: violin on "Train Faces"
Peppe Timbro: fretless bass on "Life Battle"
Raffaele Villanova: backing vocals on "Claudia"
Recorded at Transparent Music Studio in Grottaminarda, Avellino, Italy, between January and April 1994.
Engineers: Raffaele Villanova, Lucio Lazzaruolo and Orazio Grappone.
Tracks 7 & 8 were recorded in Cervinara, Avellino, Italy, in March and April 1983 and firstly released as a 7" in May 1983.
Produced and arranged by Algebra.
Executive producers: Mauro Moroni & Ciro Perrino for Mauro Moroni Records Productions Ltd and Mellow Records.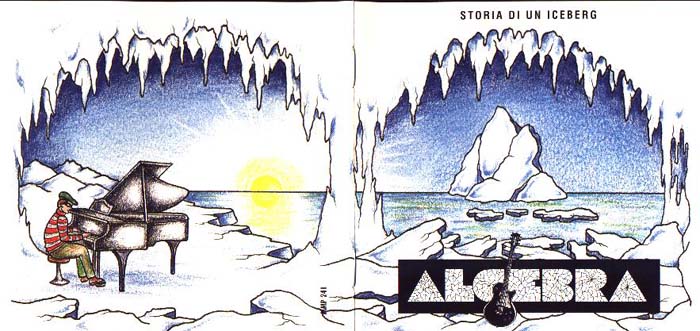 drawing by Laura Germonio
1) PROLOGUE
music written and performed by Mario Giammetti
2) IL LADRO ROMANTICO
music and words: Mario Giammetti
In the fantastic world of music all can happen, even that a famous burglar lets himself get captured by the police because he cannot resist the temptation to play a wonderful grand piano he found in the house he was going to burgle...
Lui saliva per le scale
e si guardava intorno.
Il suo passo era leggero:
sfidava il silenzio.
Quando giunse al secondo piano
ebbe un po' paura,
ma gli bastarono pochi secondi
per aprire la porta.
Svaligiare gli appartamenti
era come una passione,
si era creata già un po' di leggenda,
e adesso era in azione.
Quando vide quel gran pianoforte
restò proprio affascinato
non resistette alla tentazione
di provare a suonarlo.
La signora della porta accanto
ne fu molto insospettita
così prese la sua decisione
e impugnò la cornetta.
Le sirene della polizia
gli fischiavano nella mente
se lo portarono al commissariato:
fine di una leggenda!
3) VERSO IL NULLA
music and words: Rino Pastore
A person who depends on drugs, medicines and alcohol knows perfectly his condition and he's the only judge of his own destiny. He can succeed to escape, but only if he works hard on his will and if he accepts the helping of the friends.
Ho visto troppa gente perdere la strada
ed ho sempre visto nei loro occhi profondi
la luce della vita che si consumava
in una situazione da loro ben capita.

Un fumo intenso si sprigionava
dal falò della montagna di giornali
che parlavano, parlavano, parlavano...

Il battere impetuoso dell'onda dell'oceano
fermato da una volontà, una volontà esterna.
Le loro storie sempre uguali
ricchi, poveri, bianchi, neri.
Le loro membra sempre unite
nella corsa verso il nulla.
E mentre l'ignoranza umana
lascia crescere il fiore dentro di sé
quei corpi in balia del nulla
sono solo un tassello in più.
Talvolta un alito si perde ancora
talvolta qualcuno in più
ma il mondo non finirà così
qualcuno ce la farà.
4) CLAUDIA
music: Mario Giammetti - Rino Pastore
words: Mario Giammetti
This is the story of a child who lives a miserable life. Her father was killed one morning in a bar, her grandfather goes to bed with her mother, and she is just satisfied with loafing in the village asking for some coins to buy sweets.
Claudia è nata undici anni fa
suo padre l'hanno ammazzato una mattina al bar
poco da fare in un paese così
e Claudia ora vive solo con mammà.
In paese tutti le vogliono bene
le danno sempre qualche spicciolo
specie il nonno che di notte va
a dormire insieme con mammà.
5) TODAY'S IMAGES
music: Rino Pastore - Mario Giammetti
words: Rino Pastore
The present seems not to be as you hoped and looked for, especially if you compare it with the pleasant memories of the past, looking at sepia photos and stimulated by the hot wind of the summer...
I feel summer memories coming in that wind
from the sea when I was on the sand
and happy moments which didn't want to come to me
because they were faster than reality.
I feel voices coming in that constant wind
calling me out of here and
my body seems empty and alone
looking for a life breeze, forever.
Today's images like photos of old things
they are in black and white against the sunlight.

I run in the springtime on never crossed roads
and I feel it's the right moment for doing nothing
and everything I do today is just a waste of time
because I know it will never come back to me.

Looking at reality which runs fast and far
and I am alone waiting for nothing
inhailing this constant smell of old things
breaking out when tomorrow will come.
Today's images like photos so too real
to be what I see now and forever.
6) GENESIS MEDLEY
consisting of:
AFTERGLOW (Banks)
FIRTH OF FIFTH (Banks-Collins-Gabriel-Hackett-Rutherford)
THE MUSICAL BOX (Banks-Collins-Gabriel-Hackett-Rutherford)
We were quite obliged to play a Genesis cover, not just beacuse Mario is the director of "Dusk", the Italian Genesis magazine, but also because this is the band we all loved best. We selected a medley including three songs we used to play live in 1983/84. We tried to play quite faithfully to the original, but we avoided to do a stiff imitation. Whatever the result is, Genesis please forgive us!
7) A PRAYER
music and words: Mario Giammetti
Being an employer implies a mental status done of overwhelming...
I see the rain
Falling on the road
And then I see the sun
That transmits the light.
I see the sky
Now its colur is black
But all the stars
Give out their glares.
I don't ask much
I'm content with a usual life
But I never want
To pass to the other side.
There is a class
That I hate with all my might
It's that of the boss
Because he's a dirty oppressor.

And if you have this power
If you can do all that you want do
I pray you don't let me become a boss.

Oh, my god, I pray you
Oh, listen me, for a while...

8) YOU CAN'T
music and words: Rino Pastore
This is an ecologic protest against the human beings. We are sons of mother earth but we don't respect it and we risk of dying because of the pollution.
The ground gives its fruits
The sea gives its fish
And nature gives everything.

The wind goes back and
Then it goes far to leave the sign
Where the sun rises
Where the sea is born.
Because love is endless if you choose the right man
Every planet is near and every planet
Is far from the big sun.

Big splendour because every black star light up the night
And then we are very tired to think.

The earth has its children
But nobody takes care of them
But like a big mother it helps them.

The black fire has returned to help the water
They are very fine and then
They go far in a robot-car.

In the endless sky you can't ask me and you don't have to speak
They have left for a new space street
and they will go back.
Big splendour because every black star light up the night
And then we are very tired to think.

The earth has its children
The children who don't take care of it
The children that make themselves educated.
But like a big mother it helps them.
The earth has its children
The children who don't take care of it
The children who in a short time
Will kill each other.
9) LIFE BATTLE
music and words: Rino Pastore
There are two opposite sides which annihilate themselves. The seasons will run slowly passing the ephemereal human life. This song refers to the internal wars destroying too many places in the world.
Life is already dead and nature stays with Lord
once upon a time a forest in the place where the sun rises
with high oaks and elms,
a delicate river like silk
ran amid a velvet short grass
In autumn the strong wind swept the leaves
and in winter the snow covered its spoils
and with the coming of the new year summer
and spring had peace, had peace.

But that day at dawn the livid light
of the sun crossed the blanket of clouds
of that rainy september
and on the horizon it showed a silver flash, silver flash.

The black wind had blown violently
and a thin rain went into your bones
and I think that nature
guesses a smell of battle
The sun was engulfed
in the gloomy and violent sky
and that strange flash
was changed into a black terror.

Now the forest saw two armies
one is white and the other is black
the men seemed mad and they killed
one another with swords and hammers
the shields shook under the heavy blows.

The battle lasted the whole day
the velvet meadow became violet.
The river became red
and the curtain closed at the set of the sun.

In autumn the strong wind swept the leaves
and in winter the snow covered its spoils
and with the coming of the new year summer
and spring brought peace again, peace again.

10) STORIA DI UN ICEBERG
music and words: Mario Giammetti
The huge size of the iceberg hides human beings and their dramatic hinability to communicate with others.
L'iceberg, immenso, si stagliava
con la sua spaventosa mole
spezzando la monotonia del blu.
E gli pesava quel blu
che lo circondava
che lo avvolgeva: il mare.

"Ice" sorrideva verso sera
quando ogni pesce ritornava
ma nessuno di loro lo capiva.

Cercava di manifestare
anche al mondo animale
la sua voglia d'esser vivo, mai solo...

I pesci gli passavan davanti
indifferenti e infastiditi
forse un pochino anche stupiti di lui.

Quando anche l'ultimo di loro
era rientrato nella tana
"Ice" era preso dalla malinconia.

Una sera misteriosa
i pesci trovarono una sorpresa
perché "Ice" al solito posto non c'era.

Stanco d'essere ignorato
al sole non si era ribellato
e mentre il suo cuore piangeva
si scioglieva
nel mare.
11) RUSSIAN SUITE
consisting of:
I) RUSSIAN THEME (Giammetti-Silvestri)
II) IGOR GOES TO... (Giammetti-Pastore-Silvestri)
III) TRAIN FACES (Pastore)
IV) SAD TRAVEL (Pastore-Silvestri)
V) EVERY BROTHER DESERVES A TEAR (Giammetti)
The three of us used to play in another band called Taxirum. In that period we composed the first two sections of this suite as parts of a song. During the rehersals we gave it the working title "Il russo" (the Russian), because of its distinctive sound. So, during the recording of this album, we decided to use those sections and to add other ones (some old, some just composed) to create a unique instrumental track which can evocate the desire of flight and the sad travel of a Russian dissident.
12) EPILOGUE
music written and performed by Rino Pastore
Front & back cover drawings: Laura Germonio
Inner sleeve illustrations: Giovanni Giammetti
Algebra logo: Francesco Giammetti
Algebra photos: Ezio Camerino (1984) & Augusto Giammetti (1994)
Algebra would like to thank:
the former Algebra members (Carmine Ielardi, Pietro Pastore, Toni Scognamiglio, Renato Trapani)
Sonia Carapella
Enzo Del Basso
Ubaldo Giammetti
Notturno Concertante
Cris Pascale
Angela Ricciardi
St. George's Garage Blues Band
Angela Waters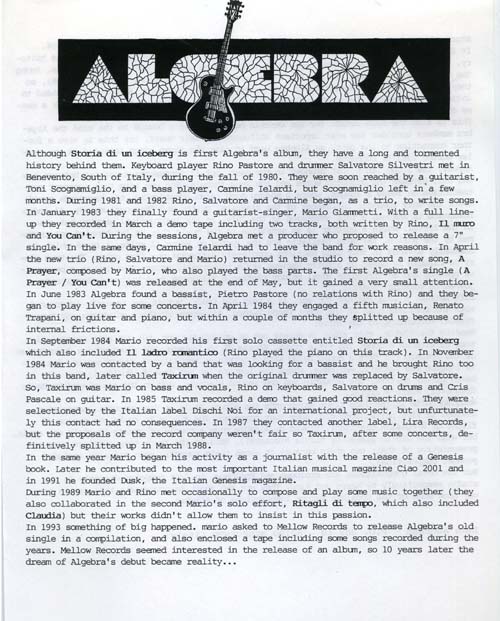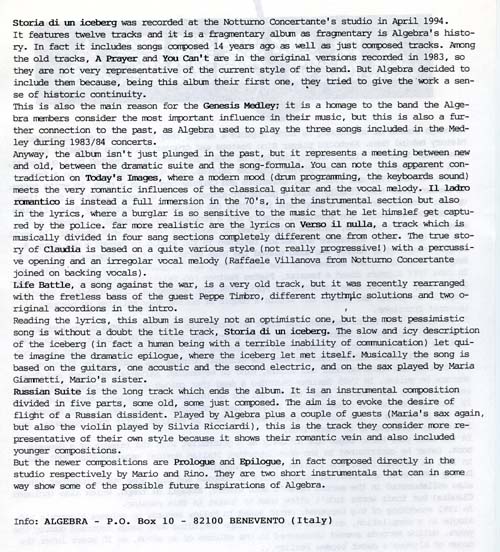 press release
Mario: "We recorded the new songs between January and March 2004 at Notturno Concertante studio. The main problem was drums. The studio at the time hadn't the facilities to record a proper drum kit. In the end, Salvatore played real drums, but every piece of the kit was triggered through keyboards sounds and finished in the hard disk. After this, it was all quantised, which made the drum sound pretty awful. Also, vocals and saxophone didn't sound good enough"
Mario: "I still consider the Genesis Medley as the worst thing we have ever done! We didn't dare to change it (apart from the connections between one song and the other) but on the other hand we didn't care to research the correct sounds and partitures. In the end it was really awful, and I just discovered in the studio that I wasn't able to reach the high notes of Afterglow anymore. I can assure I was ten years before, though, when I used to sing it on stage! So I was forced to change the key and this makes even weirder the connection with Firth of Fifth!".
Mario: "Bringing in a few guest musicians was a great idea. Maria's sax gave a full new atmosphere to the songs, especially the title track Storia di un iceberg. I had already recorded it ten years before as a solo track where I did the middle solo with electric guitar, but replacing it with the sax was much better. Also Peppe Timbro's fretless bass addad a great feel to Life Battle, along with the sampled accordion of the keyboards".
Mario: "The best track is probably Russian Suite. It was my idea to put together a few already existing cuts. The only completely new part is the tarantella of Sad Travel. The first two parts belong to our previous experience with Taxirum, while Train Faces was the instrumental adaptation of one song by Rino which was called Facce da treno! Every Brother Deserves A Tear was a piece I had composed on acoustic guitar back in the late Seventies, ispired by some thoughts about my three elder brothers. The addition of lead guitar, sax and rhythm section gave it a totally new flavour. Funnily enough, years later a friend of mine sent me a tape with a song by Pendragon which was pretty similar! I had never heard that song before, although I knew Pendragon very well, because it was a track only released on a 12". Of course, when I composed this section it in late 70's, Pendragon weren't in the business yet. So, this is just yet another proof that the notes are just seven!".